All 7,981,106,837 of us have equal worth, and deserve the same rights. Yet borders – political, economic and cultural – keep people apart, deny basic human rights and put millions at risk of physical harm and poverty. For refugees and immigrants in particular, navigating a fresh start is especially difficult today. We do not have to accept this.
We believe borders are imaginary. We are a movement of people united by the conviction that divisive, unnecessary borders are made by people, and must be brought down by people. We invite you to join us in calling for an end to all borders that divide people and limit potential – by welcoming others into new spaces and helping strangers find belonging.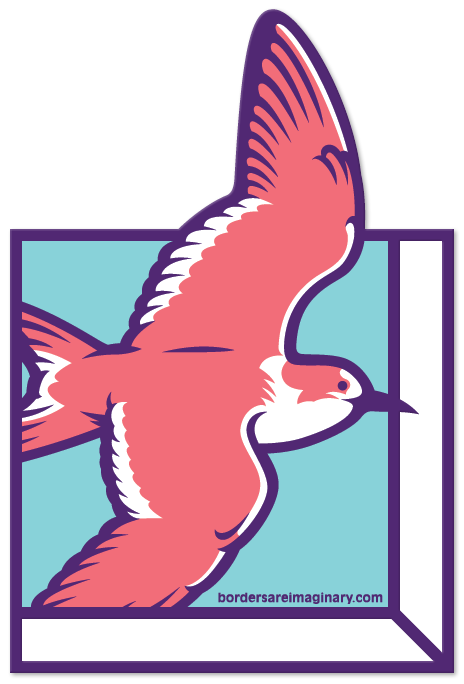 We have created stickers featuring a bird flying through a portal as a symbol of freedom of movement. Request your own and show your support by posting it in a public place, welcoming people into that space, or on a wall or barrier that you wish to open up. Take a pic and post it on social media with the tag #BordersAreImaginary or email it to us at creative@ultravirgo.com. If there's a story behind the location you chose, we would love it if you share it with us. Stickers won't save the world, but moving towards a more inclusive world begins with envisioning the possibilities.